How Do I Know If I Need Braces?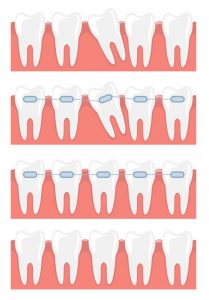 If the alignment of your teeth is affecting your self-confidence or the functioning of your teeth (chewing of food), you may be considering braces. In recent years the need for cosmetic perfection seems to have increased. Having straight teeth means so much more than a beautiful smile. Straight teeth are also crucial for maintaining a good level of oral hygiene. Bad breath, tooth decay, and gum disease are all issues that can be caused by crooked teeth.
Here at Central Orthodontics, we are experts in teeth straightening treatments. We offer a range of cosmetic braces to help you achieve a straighter smile.
If you are not suitable for NHS braces, or you don't want to deal with the long waiting lists, you may want to consider private orthodontic treatment. It is available to everyone and there are no waiting lists. When you choose to go for private orthodontic treatment, you are not held back by NHS funding and can choose from several of the latest braces.
Here at Central Orthodontics, we offer traditional braces, as well as ceramic braces, Damon braces and Invisalign aligners. To find out more about private orthodontics, you can contact us directly to arrange a consultation. If you have any questions about NHS treatment, please get in touch and our team will be happy to help.

What Are Cosmetic Braces? 
Cosmetic braces are a gentle, minimally invasive treatment. They use sound orthodontic principles to straighten the upper and lower front six teeth. These teeth are known as the 'social six'. This is because they are the six visible teeth when a person smiles.
Do I Need Braces If I Have Spaces or Gaps in Between My Teeth?
Some people suffer from teeth too close together, some people have large gaps in between their teeth. Gaps can occur due to:
Teeth are smaller than average
High frenum attachment (the band of skin between teeth attaching lip to the jaw)
Mismatch of the jaw and size of teeth
Lost teeth
Bad habits such as thumb sucking
Ageing factors (gum recession and bone loss)
Properly aligned teeth are critical to maintaining good oral health and hygiene and caring for the overall health of your body. Large gaps between the teeth can lead to bacterial growth and plaque buildup. This can lead to periodontal disease and tooth decay. Gaps can also create difficulty chewing, biting and swallowing. It may also cause pain in your teeth or jaw. This is why it is always best to close gaps in the teeth.
Cosmetic braces are an excellent treatment for gaps or spaces in between your teeth. There is a range of options available, speak to your dentist to see which options are best for you.
Do I Need Braces If I Have Crowded Teeth?
Crowded teeth are the most common reason people decide to go ahead with teeth straightening treatments. Overcrowding is when there is not enough space in your mouth or on your jaw for all of your teeth to sit comfortably. Crowding is prone to getting worse with age.
When teeth are crowded, this makes it much harder to clean and floss your teeth adequately. Straight teeth are easier to brush and floss as there is more room for the toothbrush bristles to get to the tooth's surface. This can cause an accumulation of plaque on the teeth. Built-up plaque on the teeth can lead to gum disease, bad breath and even bone loss around the teeth. Cosmetic braces are a great treatment for overcrowding.
Requirements for NHS Braces 
When deciding if a patient is eligible for NHS braces, we use a rating system called 'The Index of Orthodontic Treatment Need" (IOTN). This rating system is used by every other orthodontist. Here at Central Orthodontics, our orthodontists have undergone dedicated training to ensure they provide a fair and objective assessment every time.
During your first appointment, your orthodontist will use the IOTN to grade your teeth. Receiving grade 1 or 2 unfortunately means that you are not eligible for NHS-funded treatment. Grade one means that your teeth are almost perfect and you do not require teeth straightening treatment for health reasons. Grade 2 is awarded for minor irregularities that again don't need treatment for health reasons. When receiving a grade 2, your teeth may have minor irregularities such as protruding upper front teeth. However, these issues are not prone to causing further health problems.
If you receive grade 3, you may still be eligible for NHS funding. Receiving a grade of 3 means that your case is borderline. Your orthodontist will consider the appearance of your teeth and give them an aesthetic score from 1 to 10. Receiving a grade 3 and aesthetic score of 6-10, means you will qualify for NHS treatment.
Grade 4 is for more extensive irregularities. These irregularities require treatment for health reasons. These include upper front teeth that protrude by more than 6mm, open bites of more than 4mm, additional teeth and lower front teeth that protrude more than 3.5mm. Receiving a grade 4 means you are definitely eligible for NHS treatment.
Grade 5 is for severe irregularities. These irregularities need to be treated to improve your dental health. This could be numerous missing teeth, facial anomalies including a cleft lip or palate or upper front teeth that protrude more than 9mm.
We will let you know the results of your IOTN assessment at your first consultation. If you are not suitable for NHS treatment, we can discuss private treatment options.
Types of Cosmetic Braces
Here at Central Orthodontics, we offer a range of cosmetic braces. Metal braces are the most traditional form of teeth straightening treatment. Although they are one of the oldest forms of teeth straightening treatments, they are still one of the most popular among patients. This is due to the control of the tooth movement metal braces provide.
If you want to achieve beautifully straight teeth, without worrying about the appearance of traditional braces, then Invisalign is your answer! Invisalign is an invisible technique that corrects the positioning of your teeth to work towards an improved smile. Special trays are custom made for your teeth from clear plastic, making them invisible during wear. Ceramic braces are also a great option for patients concerned about the appearance of traditional braces.
How Long Will I Need a Brace For? 
Orthodontic treatment is not a precise science. Every individual is different. The amount of time will usually depend on the severity of the misalignment that is being corrected, how well you follow your treatment plan and the kind of brace you choose. Your oral health can also be a determining factor. If your oral hygiene is at a poor standard, you may need to have some hygiene treatments before you can go ahead and get braces. As a rough estimate, orthodontic treatments can take between six to 24 months to complete.
If you are looking for orthodontic treatment in Birmingham or surrounding areas, contact Central Orthodontics today. We offer a range of teeth straightening treatments from Invisalign to traditional metal braces. Our orthodontists are highly experienced in all aspects of teeth straightening and have achieved some fantastic results.